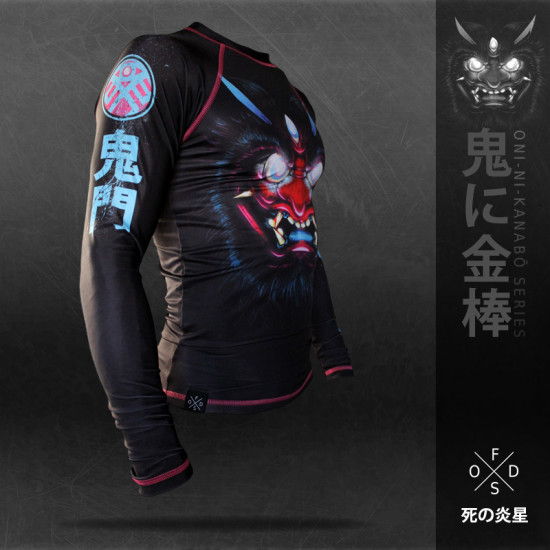 PeelGi's Demon Gate Rashguard & Fight Shorts Review
When I received the opportunity to review the Demon Gate rash guard & shorts, I was pretty super stoked, bro. PeelGi is a new company comprised of two French dudes who value aesthetic design. Moreover, they like to be innovative in regards to how to use design and where to use it. This is the first group I have seen really start to venture into other parts of bjj gear design. For example, they have some very unique belt designs for you to swag yourself out on. I like seeing creatives take risks with products. It appears that the belts have been very popular as they have sold out each time. I'd like one myself.
FROM THEIR ABOUT PAGE:
Peel Gi is a Brazilian Jiu-Jitsu/Grappling/MMA & Lifestyle brand from Paris. 
It was created in 2013 by Alexis Hadefi and Julien Rahami.
Both fighters, kinda picky and unhappy about what we have to wear for our martial art, we decided to create our own brand. 



"I WILL FIGHT THEM ON MY FEET AND ON THE GROUND AND THEIR ATTACKS WILL ACHIEVE NOTHING BUT FAILURE"
THE ANATOMY OF THE DEMON GATE CONCEPT:
The demon gate concept is derived from the series "oni-ni-kanabo" which means "oni with an iron club" a japanese metaphor. The oni is, more or less, a demon that is depicted in traditional Japanese folklore. The metaphor of an oni with an iron club refers to a being that is strong beyond strong. At the risk of butchering the folklore, I will not risk offending my Japanese mat brethren by trying to explain the story. But, if you are curious, wikipedia has some information. The PeelGi Demon Gate NoGi ensemble is an expression of this fable under the lens of the modern grappler.
The goal of the Demon Gate design was to stand juxtapose the generic black, red, white, & yellow combinations that we commonly see in rashguards. Pink and teal are not commonly used in martial arts. Probably because we all want to feel like we are the toughest ufc fightas eva. And, if you really ponder it for some time, what can possibly be more evil than pink and teal? If good is synonymous with peaceful earth tone colors, it stand to reason that, in contrast, evil is synonymous with obtrusive unnatural colors. Right? Well, if you disagree it don't matter because I'm writing this and you are not. HA!
FIRST LOOK AND FEEL IMPRESSIONS:
I really liked that the NoGi ensemble came in a little bag much like a lot of higher end Gi companies are doing. It's the little things that make relationships work, and that is no different when it comes to a business/consumer relationship. The rash guard design is pretty damn bold. I like that they incorporated some colors that are not traditional to martial art clothing, with some hybrid concepts. For example, the dragon has been synonymous with martial arts since I was a child, but a demon not so much. Yet they make the connection that martial arts are weaved in Japanese culture and they adopt the Japanese Oni mask as an avatar for the inner combative spirit of a martial artist. I can appreciate that.
I am a light featherweight and therefore ordered the small. I walk around fluctuating in the 140lbs range depending on my activity level and adherence to healthy eating. I am about 5'9″ on a good day (read 5′ 7″). This thing fit like a glove with plenty of sleeve length but not excessive amounts either. I particularly dislike when rashguards aren't long enough to cover your torso when grappling. If I wanted to show everyone my amazing abdominal development, I'd be taking a picture in the mirror. It's a good thing that PeelGi got it right in that regard.
The unique color palette features pink contrast stitching against the black material. PeelGi used a teal color to bring the kanji on the sleeves to life matching the demon's horns and mouth.
FIRST TRAINING IMPRESSIONS:
This design makes an immediate statement. Everyone noticed the design and had something to say about it. Admittedly, if you are a minimalist type of person, this design may not be for you as was the case for some of my training partners. However, the bulk of the feedback was positive and enthusiastic. Perhaps a little too enthusiastic lol. I had a lot of people asking me who made it, and how they can get their hands on one. I told them they'd have to wait for the review to come out to get the 411 (mostly because I'm a jerk).
BUILD QUALITY:
I used the ensemble for a while before I sat down to do this review because I wanted to wash it several times before I commented on the build quality. I usually expect a nogi ensemble to have some fraying of the edges and some stitching to become undone or unruly after putting it through several stress tests. Although the Demon Gate appeared to have a standard build quality, it has held up very well against months of rolling and washing. I wash my nogi stuff the same way I wash my black gis, because it has ensured that they stay fresh smelling. The PeelGi Demon Gate did not have one edge frayed or one stitch undone. Kind of impressive.
FINAL THOUGHTS:
If the appeal of the designs mesh with your personality, I would encourage you to purchase a PeelGi NoGi ensemble. The designs are top notch, and supporting small businesses is a good deed. Furthermore, it forces the bigger more commercial companies to keep up with design concepts and stay competitive. I like the customer service that PeelGi provides, and I think you would too.
To get yours, go to the PeelGi website.