Wash BJJ Gis That Are Black Without Turning Them Gray:
Last week, I showed you guys how I prefer to wash my white jiu-jitsu gis when they are extra funky or getting dingy. In all honesty, I try to use at least some of those methods even if I don't have the time to soak my gis, because the lawd knows how the bjj gear can stink to high heaven after years of sweat hard work.
Great! We have a good starting point for washing our bjj gis. But, what about our black bjj gis or other dark bjj gis (I know tatami has come out with an array of colors for bjj gis)? Well, as I told you guys, I suffer from a lot of obsessive compulsive behaviors, so I can't have my black gis turning gray on me. No sir! That will just not do.
What to Use to Wash Your Black BJJ Gis:
White Vinegar
Black Coffee
Vinegar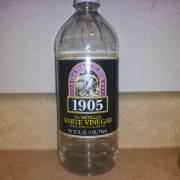 Like I told you: Vinegar whitens, freshens (yes, freshens), and softens fabrics. Add 1 cup (and not a drop more!) along with your regular laundry detergent. DON'T WORRY ABOUT THE VINEGARY SMELL! It dissipates after it evaporates and the fabric is dry. It can also be used with stains; spray a stained spot with 100% undiluted white vinegar before washing.
Black Coffee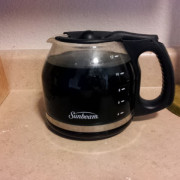 Coffee is widely known by the DIY and frugal community as a natural deodorizer. It can also work as a dye. I brew two full pots of black coffee to wash my 3 dark gis and nogi stuff (a full, but not stuffed, washer). What else do you need to know to use this!? It will deodorize all of the nasty sweat your body produces as well as the sweat you borrowed from all of your training partners. Although I'd love for my Gis to smell like coffee, the smell mostly fades and gives in to the smell of your detergent.
Woolite Extra Dark Care (Detergent)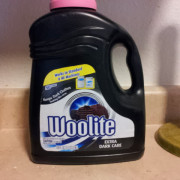 I don't know how it's made, how it works, or what is in it. But, what I do know, it just works. Period.
Note:
I recommend you use this method as often as possible if you want to keep your black, dark, and blue gis looking as new as possible.
To wash my black bjj gis, I prefer to use all of the aforementioned ingredients and let everything soak overnight in COLD water. If you have your own washing machine, washing your black bjj gis is very simple: start the washer with cold water, add the detergent, and then add at least two cups of brewed black coffee per gi (the more the better in my observations, like I said, I use as much as two full pots), and finally add a cup of vinegar. Allow the wash cycle to begin for a few minutes to agitate the fabrics and begin the cleaning process, but stop it before the rinse cycle begins. Then, soak for as long as possible (preferably overnight).
When you are ready to wash, bring the knob back to the beginning of the wash cycle and let it run all the way through. Then, hang to dry inside your house where it's safe from sunlight as sunlight will cause the black and colors to fade.
If you don't have your own washing machine, do what I do; simply turn your shower tub into a soaking station.
How to Wash A BJJ Gi When You Don't Have A Washer:
Make sure the water won't drain
Fill up the tub about an 1/8 full (this isn't exact science just eye ball it) with cold water
Add all of your washing tools including your detergent
Swish the mixture around using the handle part of a broom, or what-have-you, until it's dissolved,
Add your black bjj gis or black clothes
Make sure there is enough water to barely cover all of the fabrics
Use the broom to agitate everything as if you were washing by hand
Soak for as long as you possibly can (a couple of hours is good, overnight is better)
Transfer to a washing machine and wash as normal
There you have it folks. Use these methods to wash your black bjj Gis or black clothes to keep the dark and majestic look you intended. Ladies like their men tall, dark, and handsome. This won't make you any taller, handsome (like me), or even darker, for that matter, but it will show them that you know a thing or two about a thing or two.
The Gi I wore on the day I received my bjj purple belt, is a cheap Woldorf Gi that I bought way back in 2008 when I was still a white belt. So, trust me, using these things will definitely help keep your black Gis from fading.
This is also How I Wash A Blue Gi to Clean it Well and Preserve the Color on a New Gi…
I'll let you in on a little secret; I use this exact same method with my blue Gis. In fact, I wash my blue bjj Gis with my black bjj Gis together using these methods and they look/smell great.
How Often Should I Wash My BJJ Gi?
After every training session! Don't be that guy that thinks it'll be okay to wear his gi twice, or, dare I say, thrice before washing your bjj gi. YOU MUST WASH YOUR BJJ GI AFTER EACH AND EVERY TRAINING SESSION. Period.
Once again, don't forget to check out what I do to wash my white jiu-jitsu gis to keep them brilliantly white and smelling fresh!
Follow me: @rubeneavila