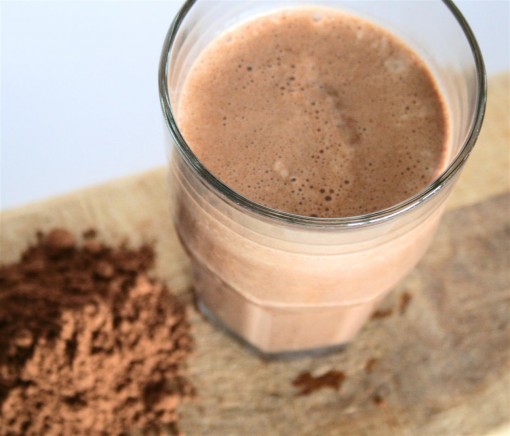 This chocolate fat loss protein shake recipe is AMAZING!
A couple of weeks ago, I had a shake that was prepared by the guys at the gym I go to. They have a shake bar; it is pretty cool. I had a chocolate peanut butter shake, and I loved the taste. It was very good. I have been trying to come up with something to rival that shake since then. I think I succeeded with this recipe. I call it ChocoButta.
This shake is pretty low in carbs, but not completely devoid in carbs. Carbs are necessary, dudes. The fat from both the peanut butter and coconut oil work together to make this a shake that is suitable for fat loss. Check out this article which links to a peer reviewed study on coconut oil and its effects on fat loss. Here's an excerpt from the article:
Coconut oil is full of medium chain triglycerides. (MCTs) The good thing about this type of fat is that it is more likely to be burned as energy than turned into extra blubber. Additionally extra virgin, organic coconut oil is full of lauric acid and caprylic acid, two important fatty acids that contain anti-viral and anti-microbial properties, so while your body can more easily utilize these fats as easy energy, coconut oil also helps to boost immunity and keep you from getting sick
Enjoy!

Fat Loss Shake: ChocoButta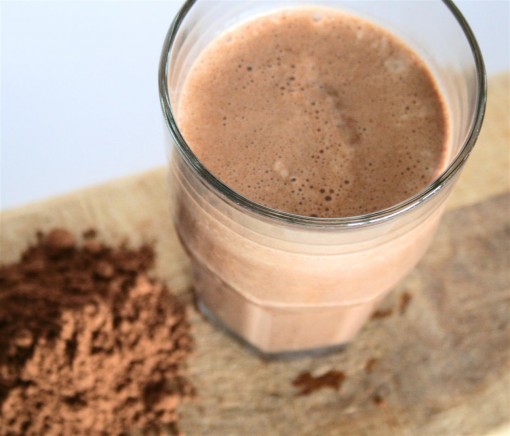 When to Eat:
Pre Training
This shake is a metabolic accelerator. The type of shake that will facilitate fat loss and help you get leaner.
Ingredients
1 Scoop of any Chocolate Whey Protein Powder
1 Tablespoon Unsweetened Dark Chocolate Cocoa Powder (or sugar free Jell-O chocolate pudding powder.)
1½ Cups Unsweetened Almond Milk (or Soy Milk)
1 Tablespoon Extra Virgin Organic Coconut Oil
1 Tablespoon Peanut Butter
1 Whole Banana (Or Frozen Banana)
4-5 Ice Cubes (If you don't use a frozen Banana)
Instructions
Combine all ingredients
Blend Until Smooth
Drank
Notes
Peanuts are technically legumes (like beans and lentils), not nuts. Two tablespoons of peanut butter has 8 grams of muscle-building body-leaning protein.
Nutritional Breakdown
Serving size:
Yield
Calories:
645
Fat:
31
Saturated fat:
16
Poly Unsaturated fat:
4
Mono Unsaturated Fat:
9
Carbohydrates:
52
Sugar:
30
Sodium:
293
Fiber:
4
Protein:
45
Cholesterol:
70
Another alternative to coconut oil, is using MCT oil in your shakes and recipes. MCT stands for Medium Chain Trygliceride and it's the active ingredient in the Coconut Oil that helps you lose fat.
Follow me: @rubeneavila