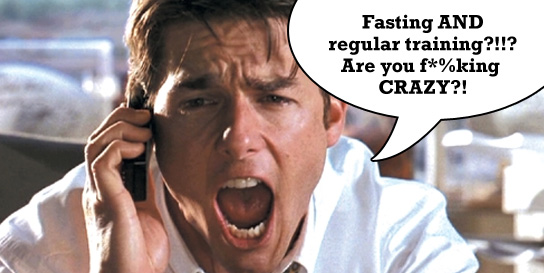 I'm not crazy (I think), but I fasted training might be a protocol I will be experimenting with more.
Allow me to explain…
Yesterday I was able to get four training sessions in preparations for NoGi worlds (training more than once a day rarely ever happens for me) all of them in a fasted training state. I got in a little less than an hour of drilling in the morning followed by the morning Jiu Jitsu class. By then, I was hungry enough to eat a horse, or a pony… or at least a small chicken. I quickly rushed home and had a monstrous breakfast (btw may have discovered my absolute post training breakfast.. more on that later) I rushed to work and took care of all my errands etc.
Fasted training is great for fat loss, but does it have any place in discussions about performance?
Unfortunately, I wasn't able to have another meal before my next training session the evening bjj class. I was only able to have two apples, a banana, and a mandarin between breakfast and the evening training session which is 8 hours! On the drive to jits I started to feel the hunger in my stomach, but it was too late to get something to eat. I decided to train in my fasted state. The evening bjj class went very well for me. I was a little more focused than usual and my energy levels were higher than normal. It seemed my performance got better as the training went on. We ended the evening class and began our NoGi competition class, and I felt INCREDIBLE.
My jiu jitsu was better than usual and I thought about the fact that I had just trained in a fasted state…
I thought about this for a second, and remembered that this has happened before on a virtually empty stomach. I just feel awesome during fasted training. There seems to be a correlation and pattern.
Fasted Training seems to improve my performance in the following ways:
Faster reflexes
Enhanced focus
Outstanding Energy
Combinations flowed together more automatically
More natural purposeful aggression
Coincidentally, I stumbled upon this video where a fitness trainer talks about training in a fasted state. *UPDATED*
So, I decided to do a little more net research to see what others say about fasted training. According to firthfitness.com training in a fasted state has the benefits of:
Resting and reducing the workload of your digestive system
Allowing the body to cleanse and detox from harmful chemicals
Reducing the amount of free radicals
Promoting mental clarity and focus
Allowing your body to rely solely on sugar and fats for fuel
Maximizing the body's ability to partition macro nutrients more effectively
Helping your body heal
Suppressing insulin levels allowing fat mobilization to occur
Increasing human growth hormone levels.
There seems to be others and even world champion bjj fighters who also agree that fasted training does have some benefits to be considered. So, I am going to look at this more closely. I will not be diving in head first because this seems a bit counter intuitive, and I don't want to have any bad training sessions in preparations for the NoGi worlds. In addition, because fasted training is great for weight loss, I need to be very careful what I eat after training sessions to not lose lean body mass. I'm already a weakling as it is.
This may not be for everyone, as I know some people who did not respond favorably to this in the past. In fact, a couple of my training partners and my instructor do not agree with me. However, if you are feeling a little spunky and want to get cute with your training methods, do a little bit of your own research and try it out (never just blindly listen to someone's opinion on the internet without fact checking). Let me hear it in the comments.
Follow me: @rubeneavila