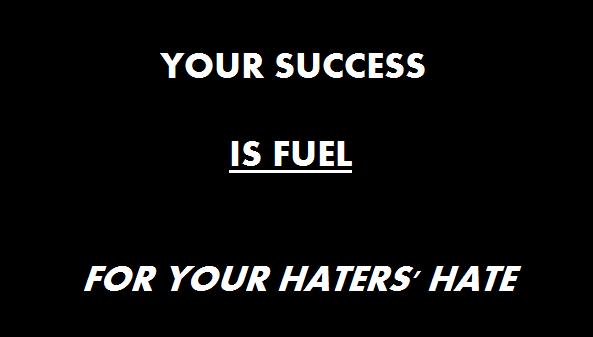 EDITOR'S NOTE: AT THE TIME I WROTE THIS ARTICLE, IT WAS TO THE BEST OF MY KNOWLEDGE. I NOW RESCIND THESE WORDS AND WITHDRAW ANY SUPPORT FOR THE TLI BANNER. APPARENTLY, THERE WAS A REASON TO BE "HATING" AFTER ALL.
Are you feeding your haters their hater fuel?
I wasn't planning to make an update today. But, I was forced to. I was inspired by success. While prepping for some personal training today, I saw Master Lloyd Irvin put up a hater fuel status update that brought a smile to my face:
"Team Lloyd Irvin Operation Invade Atlanta Is Now Complete! We Dropped The Medal Chaser Team In At 22:00 Hours And Just Got Our Last Target! The Mission Was To Bring Back Gold Medals In Every Absolute Division And The Mission Is a Complete! We Won The Blue, Purple, Brown And Absolute Black Divisions! Aaaaaayyyyy"
For some reason unbeknownst to me, the TLI squad receives a lot of hate and while also a huge lack of mainstream bjj media coverage. Luckily for them, Lloyd is a brilliant marketer. He does a great job of letting everyone know about their success. Every time they succeed it fuels the haters.
For the life of me, I don't understand the hater mentality. They are everywhere in life. In my own personal life I have encountered haters in every facet of life. I have encountered them in school, sports, and work. Unfortunately, I have also encountered them within social circles and family. You see, I consider the hater mentality or haterism a psychological disorder. They are infected with misosis (miso = hate & sis = constant state). I think I'll refer to it as hatosis. Their weakness doesn't stop there. It appears they also have a fear of victory. They have victphobia. Instead of being inspired by others' success, it becomes their hater fuel and they drive themselves deeper and deeper into hatosis and victphobia. It's a vicious cycle; I pity these people.
TLI 3rd Place 2012 Atlanta Open
But, let me make this perfectly clear, If they do not make the choice to take control of their life and improve it, I will have no qualm allowing my success to be their hater fuel. 😉 You can bet your @$$ buddy! At the end of the day, I rather live in my positive fantasy world than in YOUR negative world in denial city on bitter street.
TLI 3rd Place 2012 Atlanta Open
I have become a huge fan of TLI and what they do. They preach no excuses. They condemn weak mentality. In fact, if you haven't seen Lloyd's video on weak mentality dubbed "bjj bitchassness" I certainly recommend you do so now!
[youtube=http://www.youtube.com/watch?v=1GuQbYHVBRI]
Keep doing your thing TLI. Keep producing that hater fuel.
Follow me: @rubeneavila