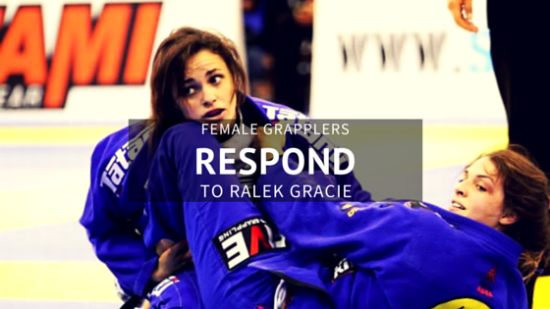 When asked about the prospects of women in future Metamoris cards, Ralek all but shut women down. Part of his response really upset a big segment of the bjj community.
We had that one match and it was cool, but that was more of, "That's cool and that was interesting and I want to see that again if the girls are cute." You know how it is. The UFC wouldn't even have a women's division if it wasn't for Ronda Rousey. They wouldn't even have it.

-Ralek Gracie
The general consensus was of a disagreeing nature. There was a lot of people who spoke out against Ralek's opinion regarding the inability of female grapplers to bring forth a big audience. As Abe Lincoln said:
Dick move, Ralek.

-Abraham Lincoln
In an attempt to explain himself, Ralek released a video regarding the issue:
https://youtu.be/QRpIRS6nIiY
Female Grapplers Respond to Ralek Gracie's Remarks
Jiu-Jitsu is for the protection of the individual, the older man, the weak, the child, the lady, and the young woman – anyone who doesn't have the physical attributes to defend themselves.

-Helio Gracie
I personally think Ralek's perspective on growing an audience is a bit archaic. If we use Ronda Rousey as an example, his argument that women need to be "cute" is deflated. Beauty is in the eye of the beholder, as cliche as that is, not every person who is attracted to women is necessarily going to think Ronda is cute. However, everyone can agree that she is an absolute force as a fighter and she always finishes her matches in an exciting fashion.
Ronda wasn't a big name until she was marketed as an undefeated phenomenon. The UFC actually gained an entire new audience of women who previously had no interest in fighting because of the marketing hype behind Ronda. Metamoris could replicate the efforts with a woman that is submission oriented as Rousey is (kinda like McKenzie Dern) if they had a clear vision, strategy, and willingness to make it happen.
But, they don't.
And, after this last Metamoris, perhaps they should reconsider their roster. Going for athletes who are submission oriented risk takers is fine. That fits the bill. But, choosing people based on sex or fame does not necessarily mean they will produce an entertaining fight. I think Chael Sonnen is hilarious, but I don't ever want to see him in Metamoris again. Sorry buddy. I'd rather see an athlete is going to put it on the line (man or woman).
One last bit of advice for Ralek, because, of course, he reads this blog lol, you might want to hire a PR person to speak on your behalf. =/