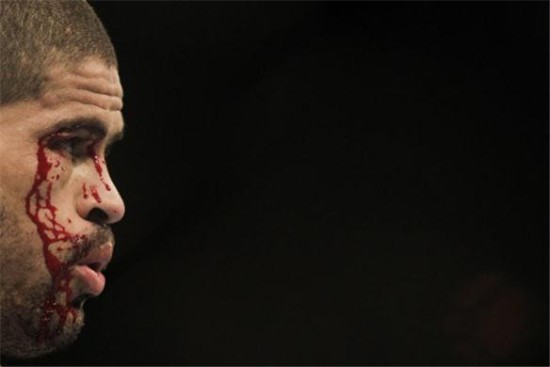 In case you live under a rock, or you don't follow UFC (which is worse). A man was banned from the UFC for not letting go during tap out. Rousimar "Toquinho" Palhares, a very gifted grappler and leg lock specialist, has been banned from the UFC for unsportsmanlike conduct. Dana White, UFC President, has decided that Rousimar Palhares has held on to submissions beyond the "tap" for too long and too often. Before we get into the meat and bones of my opinion, let's look at his submission victories in chronological order.
Rousimar "Toquinho" Palhares' Submission Victories in Chronological Order
1.
[youtube=http://youtu.be/SBgJwpHvitU]
In his first fight against Ivan Salaverry, as you can see, Rousimar Palhares ignores the tap. He ignores the referee's shout to let go, and does not let go until the referee literally pries his arms away from the submission.
2. I can't embed this video, but here's the link.
Rousimar Palhares' second submission victory is against Lucio Linhares. After a long battle (and really good fight, I might add) Toquinho secures a heel hook. Although this time he did not hold it for too much longer, again he ignored the verbal tap, the referee instruction to let go, and required the referee to make physical contact with him in order to let go.
3. His third submission victory came against Tomasz Drwal.
I could not find a link to the entire fight, but this gif image of the end of the fight seems to show the gist of it. Rousimar Palhares secures the heel hook, ignores the obvious tap, ignores the fighter's shout of agony, ignores the referee's instruction to let go, ignores the referees initial physical contact, and let's go on the third time the referee attempts to jerk Toquinho's arms away from the submission.
Toquinho was warned, BEFORE THIS FIGHT, that UFC staff was aware of a trend developing in his submission victories. Rousimar Palhares was told that he needs to be immediate in his release of a submission following a tap out for the safety of both fighters, or he would be facing disciplinary actions. That was BEFORE this fight happened.
As a result his behavior after the tap out, he was suspended for 90 days. For which, he had this to say:
"I didn't feel that he was tapping. I felt like he was pushing my leg and I held on until the referee stopped the fight because I didn't want to misunderstand," Palhares said in a post-fight interview with UFC.com. "I didn't want to hurt him. I was excited for the fight. I'm really sorry if I hurt him."
Ariel Helwani from MMAFighting caught up with Tomasz after the fight, and they asked him about the submission. He said:
"I felt a slow and weird crack in my ankle, so I tapped and screamed. I think when someone taps and screams it means that he's done, that he concedes the win to the other guy and that the guy should stop the hold without fearing any misunderstandings with the ref. But truthfully, I have no idea what went though his head. I will not judge him and simply leave it to the fans to make up their own mind."
4. In his next submission victory against David Branch
Toquinho won by knee bar. At that point, it seemed, he had learned his lesson as he released the submission with much more immediacy. The referee was there the entire time and immediately made contact following David Branch's tap out. Rousimar Palhares let go within a reasonable time frame; it seemed that this gifted grappler turned a corner and understood what was expected of him when winning by submission.
5. His next win was not by submission, but it is relevant to this discussion.
He faced Dan Miller and beat him by a unanimous decision. However, in the first round of the fight he dropped Miller and ground and pounded him. Both Rousimar Palhares and Dan Miller thought the fight was over, and Palhares jumped to the top of the cage to celebrate. Allegedly, the referee did not give a clear indication that the contest was over and brought Toquinho down to continue the fight. By all accounts, this was a major error by the referee.
6. Here is a video of Rousimar Palhares' next submission victory against Mike Massenzio.
In this fight he wins, again, by heel hook. Like Toquinho's win against David Branch, the referee was right there during the application of the submission and when Mike Massenzio tapped, he immediately made contact with Rousimar Palhares. To his credit, Rousimar Palhares let go in a timely manner despite the mishap of his previous fight against Dan Miller.
7. His last submission victory in the UFC was against Mike Pierce.
[youtube=http://youtu.be/qsblWuiwMGY]
Mike Pierce tapped immediately following Rousimar Palhares securing the heel hook. This time the referee was not in the immediate vecinity to stop the submission. Toquinho ignored Mike Pierce's tap, ignored Mike Pierce's shout of agony, did not let go when the referee first made contact, and only let go once the referee used his head to wedge between his arms to release the heel hook.
The Aftermath of the Heel Hook that Broke the Camels Knee
As a result, Dana White released Rousimar Palhares from the UFC and placed an indefinite ban on his services as a fighter. The result has been polarizing. I have seen opinions on both sides of the fence. There is a huge crowd of people applauding Dana White's actions against Toquinho. Alternatively, there is also a crowd of people who feel that Toquinho has been wronged.
Other Professional Fighters Reactions to Rousimar Palhares' Heel Hook:
Sick leg lock as usual, looks like he held it on for a little bit though. Hope his leg is ok.

— michael (@bisping) October 9, 2013
Damn, as always toquino held that way to long…

— Mike Brown (@mikebrownmma) October 9, 2013
That was crap! When someone is clearly tapping and the ref can't even pull him off Dana need for fine Palhares to… http://t.co/UriKsO0mXq

— Ben Askren (@Benaskren) October 9, 2013
In my opinion palhares hangs on to his submissions a little too long, even with the ref trying to pull him off… He could potentially….

— Brad Tavares (@BradTavares) October 9, 2013
End a career with one of those…

— Brad Tavares (@BradTavares) October 9, 2013
Dana will prob give him a sub bonus for unnecessarily destroying Pierce's knee instead of the fine he deserves.

— Rick Hawn (@RickHawnMMA) October 9, 2013
Love that Paul Harris didn't get SOTN. Trying to ruin a mans lively hood. @danawhite @ufc @UFC_CA

— TJ Grant (@TJ_Grant) October 10, 2013
Loved the submission that Toquihno hit on Pierece but don't like the way he held it. Has a history of that. Gets too excited out there.

— Kenny Florian (@kennyflorian) October 9, 2013
Dude that should be a DQ, that was blatant & not his first offense. That's worse then punching after the bell and K.O.'ing someone. #career

— Justin Buchholz (@jbmma155) October 9, 2013
This is a sport of professionals, when someone taps, let go….period. Ridiculous how many times this guy has done this

— Brian Stann (@BrianStann) October 10, 2013
Rousimar "Toquinho" Palhares tells his side of the story:
[youtube=http://youtu.be/4BXP6tsEkTc]
Rousimar "Toquinho" Palhares' Manager Speaks Out (Link)
A Fellow Brazilian Reporter Defends Toquinho (Link).
My Opinion on this Whole Matter
When I first saw the video of Toquinho submitting Mike Pierce, I was outraged. Being a grappler myself, I sympathized with Mike Pierce. I don't think someone can truly begin to appreciate the severity of Rousimar's actions unless you are a submission grappler yourself. In fact, I'll go as far as saying that you cannot appreciate this situation until grappling has become an essential part of your life. I can't imagine how upset I would be at a training partner who held on to a submission as long as Toquinho did after I tapped. I would take it as direct offense and attack on my life.
And, I don't even train with the possibility of heel hooks. In my academy, we follow IBJJF rules which have outlawed heel hooks due to the dangerous nature of that submission.
A heel hook is NOT like an armbar. It is NOT like a guillotine. It is NOT like any other submission in which you will either start to feel pain, incredible amounts of pressure, or faint before it is too late. A late tap to a heel hook can ruin your knee IMMEDIATELY. Those of us who do not have access to Tom Brady's rehabilitation process will never grapple the same again if we tear our ACL or MCL due to a heel hook.
So, I am not interested in the arm chair grappler's opinion that Toquinho ONLY held on for 1.08 seconds after the referee made contact. In the context of heel hooks, that is a LIFETIME. Don't you think professional fighters would know a thing or two about heel hooks? Fall back, trolls.
With that being said, I don't have any ill regard for Toquinho. In fact, I hope he gets whatever treatment is necessary to move forward and become a good ambassador of the sport of MMA as well as Brazilian Jiu-Jitsu. I am ROOTING for him, despite the fact that his previous trainer Murrillo Bustamante had tried getting Palhares psychological help to deal with this same issue. Apparently, the psychological treatment he received was to no avail as he continued to hurt his teammates during training.
I can say this – nobody ever defended him as much as I did every time he made a mistake like this. In the beginning I thought it was because he was naive or had too much nervous energy during the fights.

But then he caused a lot of incidents inside my academy during his camps and I changed my mind.

I got tired of seeing how he hurts people so often when he is sparring, especially when he has a fight coming up. We used to argue every time it happened, so we argued a lot. – Murrillo Bustamante
A reddit user admitted that, "Draculino says he is a little nuts." Lets not forget that Toquinho's new manager also admitted that he, "spaces out" during training. His manager says that he does not mean to do it, but that he subconsciously continues to do this to his teammates.
In conclusion, I almost feel bad for the guy. But, I don't feel as bad as I do for his past opponents and teammates who have to feel the physical pain of having a submission applied past their threshold. We, as martial artists, have a great responsibility with our ability to inflict pain. When someone taps, you let go. That's it. End of story. It's not up to you, as the submitter, to decide when the submittee has had enough.
Lets use this situation to remind us that part of being a great martial artist is to have great compassion. Be good to your teammates. Treat your opponents with respect and compassion because they are giving you the opportunity to express your techniques. One day, you may be the one being submitted, and I guarantee you will not appreciate someone injuring you due to a tap that was neglected.
Sorry, Rousimar Palhares, but you must be held accountable for your repeated ill behavior. I hope you are not an old yeller. I pray that you can turn this around. I hope you are resilient enough to grow from this and show us that you are capable of being a gifted grappler as well as a compassionate human being. Behavior like this here should not be welcomed in martial arts. It should not and will not be tolerated.
*UPDATED*
Renzo Gracie, president of the World Jiu-Jitsu Expo, has added Toquinho to the list of super matches. He had the following to say on the matter:
He doesn't know how things work in the real world. He has the mentality of a 12-year-old. You can't treat him like he's a grownup. I know everybody's going to say, "Oh, he has to be a professional." But he needs guidance.

I will sit down with him and have a chat, five minutes, And say what? I will explain to him that to be great, you don't need to hurt people. We learn to grapple in order to dominate our opponent, but if we're superior, we're kind. That shows real greatness, you know? Not to hurt or humiliate your opponent. 'Toquinho' doesn't know the difference yet. I will help him understand. Either you learn from your elders, or you're going to learn by life whipping you.
Rousimar Palhares is set to meet Dean Lister in a super fight at the World Jiu-Jitsu Expo.
Follow me: @rubeneavila