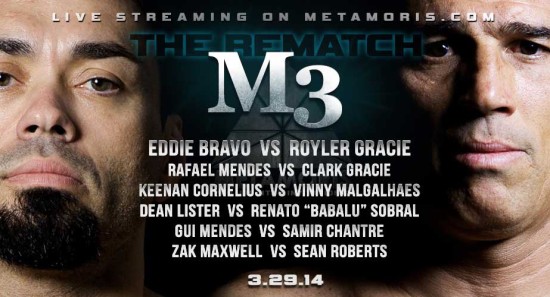 The Metamoris 3 Fight Card Has Officially Been Announced
FINALLY!
I have been anxiously waiting for Metamoris 3 to come around, and I am happy it was made possible. This morning the Metamoris 3 fight card was officially announced and made public. This is my favorite bjj event of the year!
Metamoris 3 Fight Card:
Eddie Bravo (10th Planet) vs. Royler Gracie (Gracie Humaita)
[youtube=http://youtu.be/04mFodv-dm4]

Rafael Mendes (Atos) vs. Clark Gracie (Carley Gracie Team)
[youtube=https://www.youtube.com/watch?v=QQnad3S5zPk]

Keenan Cornelius (Atos) vs. Vinny Malgalhaes
[youtube=https://www.youtube.com/watch?v=_H0putdnE3U]

Dean Lister vs. Renato "Babalu" Sobral
[youtube=https://www.youtube.com/watch?v=UsnfDWSCMSI]

Gui Mendes (Atos) vs. Samir Chantre (Caio Terra Brasa)
[youtube=https://www.youtube.com/watch?v=HarYZthuCX4]
Zak Maxwell (Gracie Humaita) vs. Sean Roberts (Ralph Gracie)
[youtube=https://www.youtube.com/watch?v=yeVdxeOxqoU]
New Commentators Announced for Metamoris 3
A lot of people complained about Rener Gracie being a commentator for the first Metamoris accusing him of being biased towards his brother Ryron Gracie. In addition to being accused of being biased towards his brother, Rener was also accused of perpetuating the Gracie Jiu-Jitsu agenda.
Well, if you happen to be one of the fans that were turned off by Rener Gracie's commentating, you are in luck for Metamoris 3. The organization made this announcement today via Facebook:
JEFF GLOVER

Jeff is no stranger to the Jiu-jitsu community. He started his training in Santa Barbara with Ricardo "Franjihna" Miller to add some discipline to his life and ended up being a natural. His victories are too numerous to count and if you think of your favorite Jiu-jitsu matches Jeff is most likely in your top three. His flashy personality combined with a very open competitive grappling style makes him one of the most entertaining grapplers of all time. Jeff commentated for a couple MMA promotions as a Jiu-jitsu analyst and now we are excited to see him experience something more true to his roots.

KENNY FLORIAN

Kenny is a huge Jiu-jitsu advocate. Aside from being the only UFC fighter in history to compete in 4 different weight divisions, Kenny started off his fighting career with a deep respect for Jiu-jitsu. Kenny's first Jiu-jitsu experience was a seminar from UFC legend Royce Gracie. He recalls getting the bug and competing multiple times with his brother and being successful early on. When asked where he trained he replied by saying he and his brother just roll around in their basement. We are honored to have Kenny on board as a Metamoris commentator, he has years of experience as an analyst with ESPN, FOX and a black belt in Jiu-jitsu.
The Metamoris videography crew is so sick! Check out the official trailer:
[youtube=http://www.youtube.com/watch?v=4S5LeQN4T7s]

Metamoris Official Trailer, Part Two:
[youtube=http://youtu.be/bNJu8qyZEi0]

There you have it, I'll update the bjj blog as more is announced.
Check out this breakdown of Royler Gracie vs Eddie Bravo in their first encounter at ADCC in 2003
[youtube=https://www.youtube.com/watch?v=hs7VMaIH8QE]