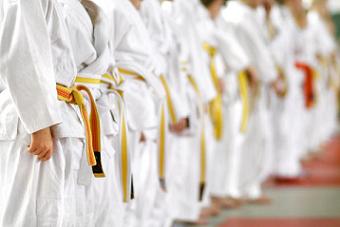 I am sitting here doing research and putting together game plans for a kids jiu-jitsu class I will be teaching at our academy. I am a big picture type of person. I always have been. I need to see the big picture before I go back and fill in the details. Usually, I arrive at my big picture by way of a question.
"What Should Martial Arts for Kids Be Today?"
Here are some questions I'm working on answering:
What role should martial arts play in a child's development?
How do you go about facilitation of a healthy ego/self esteem in a child?
In what ways should a martial arts instructor partner up with the child's parents?
What types of non martial arts subjects should be reinforced in a kids program?

Character Education?
Nutrition?
Anything else?

How to maintain a great balance between having fun and skill mastery?
What should the class structure be like?
Dealing with parents:

What to ask of them during training time?
If the time comes, what to ask of them during competitions?
My personality will not allow me to knowingly run a mediocre kids program. I have to feel that I doing something good for the students as well as their parents. As such, I need to know everything about the program before I embark on such a venture. You would think that I would be well prepared for such a task since I have been working with kids for seven years now, but this is different. This is a little more personal.
During my time as an after-school tutor for elementary kids, I experienced the gratifying emotions of seeing children's eyes light up when they "get" something. I experienced the happiness that comes with aiding kids self esteem to believe in themselves that they, too, can achieve. I experienced the bond that is created with kids when they truly trust their mentors.
When I became the director of that after-school program, I was able to experience new challenges and gratifying experiences. I completely broke the program down and rebuilt it with new ideas. Ideas that I came up with while doing child development research as well as taking a moment to observe national and international trends our society is facing.
The biggest difference now, for me, is that I'll be completely in charge of making this work. I won't have supervisors to guide me or correct me. I'll have to learn, at least in part, by trial and error what will work for the children as well as myself.
Hopefully, I'll be teaching them something that will serve them for life.
I will be teaching them something that will become a part of their identity, and that is the biggest difference for me. Most children will not identify with arithmetic, penmanship, algebra, or history. But, the kids who stick with martial arts DO identify with martial arts for life in some form or manner.
I want to make a difference in a way that is relevant to the challenges today's children are facing and will face as they grow into mature adults.
My question to you is, how would you about running a martial arts program for children?