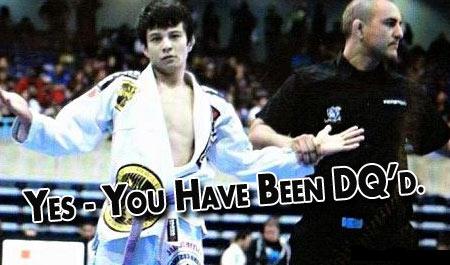 Shady competitors are now knee reaping themselves to get you disqualified!
This past weekend I traveled with my teammates to the 2012 IBJJF Master & Seniors Worlds Championship. Although I wasn't competing, I was pumped up because of the amount of work we put in to prepare ourselves for these tournaments is immense. I was interested in seeing my teammates do well with our newest tournament prep tactics and skill building strategies. The tournament got under way with our instructor taking silver via a razor thin ref's decision in the final match of the masters lightweight division against Vitor "Shaolin" Ribeiro.
After a long break, one of our blue belts was up next. The match started with his opponent jumping into full closed guard. After a little monkeying around, Randy secured his grips to start working his stand up guard pass. As he progresses through the pass, an opportunity presents itself and Randy, being the submission maniac that he is, went for the ankle lock. His outside foot placement on the hip was within the gray area where it's not definitely illegal, but it wasn't 100% certifiably legal either.
His opponent was much more keen to the knee reaping rule, because, as he stood up to defend, he was staring at the referee telling him it was a knee reap. The referee stood there watching not fully convinced, until the opponent forcefully moved Randy's leg into the definitive red zone area for knee reaping. At that point, the opponent fell via soccer flop and complained of pain like a total wimp.
This isn't the first time someone was DQ'd for reaping the knee and, likely, it will not be the last.
Allow me to make it clear that I completely agree with rules made to keep competitors safe. In fact, I have no qualm with the knee reaping rule. Although, I sometimes I accidentally reap the knee in training. =/
However, I'm sure I won't be alone in having disdain for people who use the rules to cheat their way to victories. I don't even understand what type of psychological ego disorder you have to have to rationalize cheating in order to win. How can you call yourself a champion knowing that you didn't man up and go toe to toe with your opponents?
End rant. So, all of you bjj competitors planning to compete in ibjjf tournaments, keep in mind that your opponents can cheat you out of your tournament by forcing you to reap their knee. And, according to Marcelo Ribeiro, "It is the responsibility of the person applying the leg lock to
adhere to the rules and be knowledgeable in the placement of their own legs and their opponents…. Regardless of what the opponent does."
So, please educate yourself so that you do not leave yourself in situations for this to happen to YOU.
Check out Randy's fight, and tell me what you think.
Follow me: @rubeneavila