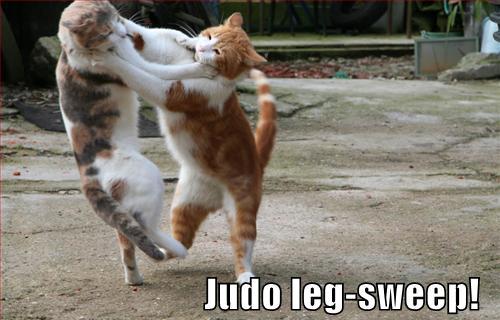 Someone asked me, "is there a difference between BJJ Takedowns & Judo Throws?"
In theory, no not really. But, in practice and actual application there can definitely be some differences in the judo throws & bjj takedowns. The reason for these differences mainly come about due to the way these two martial arts are expressed in sport. The sport of BJJ has many rules to keep its competitors safe. In addition, the rules of sport JUDO also has its own set of rules for safety concerns. In order to be a successful competitor, you must know these rules and operate within them soundly during your attempts to throw a competitor.
So, many BJJ fighters will not use certain judo throws that you would see in JUDO because it may put them at risk for "giving up the back." Other BJJ fighters will make adjustments to judo throw techniques in order to make it work for their specific game. Sometimes, these adjustments are frowned upon by JUDO traditionalists because they feel that it's a sacrifice of judo throw technical soundness.
One example of this is Rodolfo Viera's adaptation of the morote seoi nage otoshi judo throw (skip to the 2:09 minute mark):
As you watch that a couple of times, let the marvel of monstrocity that is Rodolfo Veira wear off. Okay, now take note of how he finishes his version of the morote seoi nage otoshi judo throw. First off, he immediately drops to his knees to finish the throw. Secondly, he drops off to his side rather than directly in front of the person being taken down. And, he judo throws the person at an angle. He does this, because performing the morote seoi nage otoshi judo throw with strict traditional form would put him at risk for giving up his back. Giving up his back to another monster like Andre Galvao would mean he could potentially start the match with a deficit of 4 points, or, worse, Galvao would submit him.
This is the way a traditional highly technical JUDO champion teaches a compilation of the morote seoi nage judo throw in competition:
So, what do you think? What's your opinion? Which art has the better takedowns? Does it make sense to compare?
Either way, if you want to be a better grappler you should be supplementing your jiu-jitsu with some judo training. If your academy doesn't offer judo, and joining a judo club isn't viable you could supplement your training with personal study.
Claudio Calasans suggests learning Judo for Jiu-Jitsu due to the following:
Learning Judo opens up a bigger world of grappling to you.
If you compete, it gives you more options than to just pull / let pull.
All fights start on your feet.
Judo gives you a good base from which to learn to pass guard.
Follow me: @rubeneavila