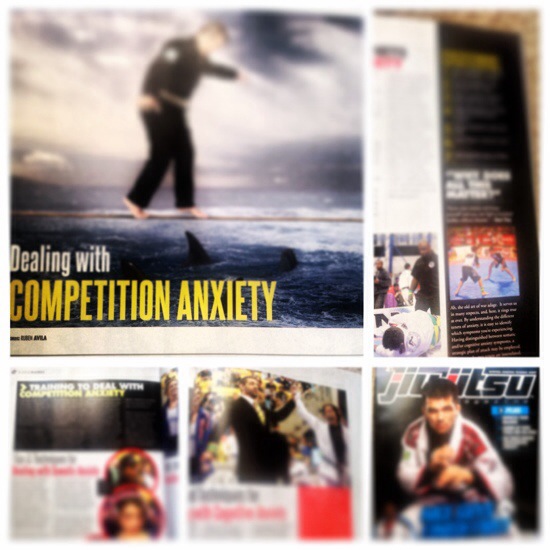 Dealing with Competition Anxiety
For myself, most of my training partners, and most people I've encountered online, the competition jitters is a phenomena that can greatly impact performance. In fact, I'll let you guys in on a little secret that few people know. I competed for the first time ever as a fresh blue belt. I was so nervous before my first match that I could not breathe well, my heart rate was through the roof, and I went to great lengths to avoid talking to people. All of this was happening even HOURS before my first match.
It was HORRIBLE.
When it was finally time to fight, the nerves intensified. I felt like my heart was going to explode!
The match started with me pulling guard and from there my mind just spaced out. I could not remember my sweep setups and I could not remember my submission setups. I was a frantic mess. To make things worse, I was ridiculously tired beyond what I have ever felt at training (up to that point, at least). I was not managing my breathing and I was fighting like a rabid squirrel on blue sky.
So, needless to say, it was not pretty. About 3 minutes in, I had burnt out my forearms and legs. The guy passed my guard like butta, and even mounted me. 🙁
At the conclusion of that match, I made a trip to the bathroom post haste and emptied the contents of my stomach. In the midst of my graceful vomiting violent puking, I could NOT figure out what had just happened to me. Surely, I was not THAT bad. Surely my cardio was better than THAT. I was sick to my stomach, disappointed in myself, and even slightly embarrassed.
But, from that day forward, I decided I would do everything I could to make sure I didn't experience that again.
I learned that I had just experienced a bout of competition anxiety.
And, I would never let competition anxiety get the best of me to the point of crippling my performance. To keep a long story short, I did a lot of research, I experimented a lot, and I followed good advice. The results have been great for me. Now, I know that if I lose it's no other reason than technical inadequacy rather than mental lapses. One less thing to worry about, ironically.
If you'd like to learn more ways to deal with competition anxiety, check out the digital version of Jiu-Jitsu Magazine.
Huge thank you to JJM for the opportunity to write for their magazine! A lot of people have problems with this, especially when they first start to compete. I emptied my treasure chest on this article and shared all of my knowledge on this subject. I never thought starting my own bjj blog would lead to a cool opportunity like this, and the feedback I have received from this article has been very positive.
Further reading:
Recently, Gianni Grippo shared what he has learned from working with a sports psychologist on the matter. The big takeaway was to focus on what he can control. It is an excellent article and goes to show that even black belts deal with competition anxiety.
Follow me: @rubeneavila