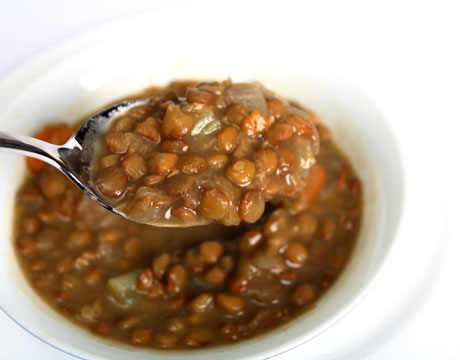 The answer is yes! Lentils can help you lose weight. Are they a miracle food? No, of course not. Nothing is. When you see something in a magazine, on television, or the internet just realize that they need hyperbolic statements in order to pique interest. I am attempting my first cut ever, and I am enlisting the aid of lentils.
How can lentils help you lose weight?
Here is a good source of information detailing how lentils can be used as a tool to help you lose weight.
Anyway…
Fall is here, and that means winter is right around the corner. For me, that means PLENTY of soups, stews, and crock pot cooking. YES! I love the crock pot aka slow cooker, because it helps me put out some delicious meals that are nutrient dense, incredibly filling, but lower in calories.
Lentils are a great food to have because: they are high in protein, high in fiber, and great for losing weight.
Bacon, tomatoes, and paprika provide richness and depth of flavor without many additional calories. The red chili pepper flakes makes this a spicer soup, and adds antioxidant power as well as extra leaning properties. The chilies aren't just hot. They make you hot too. Like they say, you are what you eat!
My favorite part is that the slow cooker does all of the work so that you can get back to reading my jiu-jitsu blog! LOL. Or watching some technique videos to add to your game. Either way, you get to chill and the crock pot does all the work. That's what's up!
Grub it up!
Crock Pot Lentils & Bacon Soup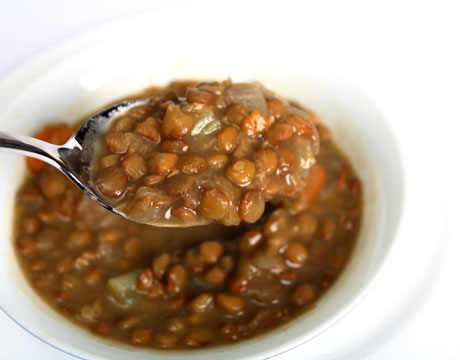 When to Eat:
Post Training
Lentils are a great way to fill yourself up and lose weight.
Ingredients
4 Organic Bacon Strips (1 Inch Slices)
2 Cup Lentils
4 Organic Celery Stalks (Diced)
1 Organic Onion (Diced)
4 Cloves Garlic (Minced)
2 Tablespoons Paprika
1 teaspoon Red Chili Flakes
4 Organic Tomatoes Diced
32 Ounces Organic Chicken Broth (Low Sodium or Homemade)
Instructions
In a frying pan over low-medium heat, cook bacon slices until brown and crispy. Remove bacon from pan & set on a plate lined with paper towel to drain.
Add all ingredients (including the cooked bacon) to the crock pot.
Heat on low for 8 hours, OR heat on high for 4 hours.
Notes
I suggest you serve this with a tablespoon of olive oil to increase the fat burning properties of this meal.
Nutritional Breakdown
Serving size:
¼ of Yield
Calories:
283.5
Fat:
8.5
Saturated fat:
2.5
Poly Unsaturated fat:
.5
Mono Unsaturated Fat:
0
Carbohydrates:
54.75
Sugar:
7.25
Sodium:
326.75
Fiber:
23.5
Protein:
24.5
Cholesterol:
15
If you liked this recipe, check out my other recipes.