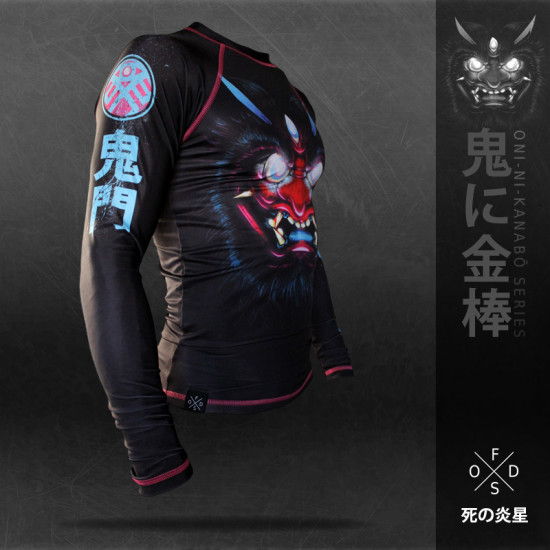 PeelGi's Demon Gate Rashguard & Fight Shorts Review
When I received the opportunity to review the Demon Gate rash guard & shorts, I was pretty super stoked, bro.  PeelGi is a new company comprised of two French dudes who value aesthetic design.  Moreover, they like to be innovative in regards to how to use design and where to use it.  This is the first group I have seen really start to venture into other parts of bjj gear design.  For example, they have some very unique belt designs for you to swag yourself out on.  I like seeing creatives take risks with products.  It appears that the belts have been very popular as they have sold out each time.  I'd like one myself.
FROM THEIR ABOUT PAGE:
Peel Gi is a Brazilian Jiu-Jitsu/Grappling/MMA & Lifestyle brand from Paris. 
It was created in 2013 by Alexis Hadefi and Julien Rahami. 
Both fighters, kinda picky and unhappy about what we have to wear for our martial art, we decided to create our own brand. 



"I WILL FIGHT THEM ON MY FEET AND ON THE GROUND AND THEIR ATTACKS WILL ACHIEVE NOTHING BUT FAILURE"
THE ANATOMY OF THE DEMON GATE CONCEPT:
The demon gate concept is derived from the series "oni-ni-kanabo" which means "oni with an iron club" a japanese metaphor.  The oni is, more or less, a demon that is depicted in traditional Japanese folklore.  The metaphor of an oni with an iron club refers to a being that is strong beyond strong.  At the risk of butchering the folklore, I will not risk offending my Japanese mat brethren by trying to explain the story.  But, if you are curious, wikipedia has some information.  The PeelGi Demon Gate NoGi ensemble is an expression of this fable under the lens of the modern grappler.
[Read more…] about PeelGi: The Demon Gate – Rash Guard & Fight Shorts Review